Support for Orphaned and
Vulnerable Children
At Hope's Promise, we want the foundation of every child's story to be family.
Why join our efforts?
Believing God designed families as the best place for children to thrive, we place and support orphaned and vulnerable children in Kenya, Vietnam, Nepal, and Zimbabwe in the care of biological relatives when possible and with non-relative caregivers when needed.
When a child loses one or both parents, sometimes a remaining parent or other loving relative simply needs support, such as assistance with education costs, to care for the child. But sometimes biological relatives are unavailable due to mental or terminal physical illness or death, neglect or abuse, or parents immigrating to other countries to work. In these situations, under the leadership of indigenous Country Coordinators working through local churches, we place and support these children with non-relative, indigenous Christian parents. We empower and equip these caregivers, whether related or not, to provide for the children's lifelong physical, emotional, social, and spiritual needs.
We believe that what orphaned and vulnerable children need most is God's love expressed through families – whether with relative or non-relative parents.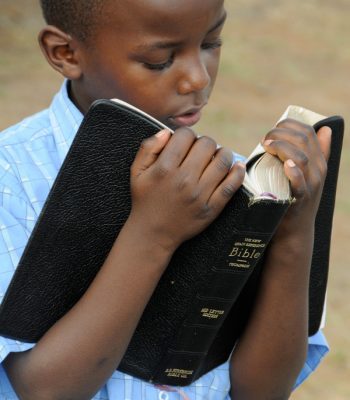 Child Sponsorship FAQs
Why are children orphaned?
KENYA: Orphaned and vulnerable children constitute a high proportion of the population of Kenyan slums like Mathare Valley, where half a million people subsist in six square miles of abject poverty. Children in slums are especially vulnerable to abuse, neglect, starvation, inadequate sanitation, lack of education, illness, and hopelessness. Most of Hope's Promise Kenya's children started their lives in Mathare Valley. In Kenya, 45% out of a total of 9.5 million children under age eighteen experience poverty and 3 million are orphaned.
VIETNAM: Although Vietnam is a middle-income country with a growing economy, ethnic minority children living in rural areas are more likely to become orphaned. Ethnic minority tribes in Vietnam often live in impoverished, remote mountainous areas, located far from basic services such as medical care. As children in these areas are orphaned, they are more likely to drop out of school to work at very young ages and less likely to receive adequate adult supervision.
NEPAL: In Nepal, one of the least developed nations in the world, many children lose their parents to death or incapacitation due to the ravages of poverty. Of Nepal's total population of 28.5 million, an estimated one million children are orphaned and approximately 25,000 live in orphanages. Orphans in Nepal are especially vulnerable to child labor, trafficking, and child marriage.
ZIMBABWE:  Decades of corrupt dictatorship have ruined Zimbabwe's economy and oppressed an entire nation, leaving orphaned children to bear the harshest impact. In Zimbabwean culture, extended family members commonly assume care for orphaned children but struggle to pay school fees. Hope's Promise comes alongside the local church to assist these families, remaining "invisible" to the child and thereby protecting existing family structures and strengthening caregiver-child relationships.
How is a child selected to be a part of this program?
We admit children into Hope's Promise families who are single or double orphaned (one or both parents deceased) or who have been abandoned or neglected by one or both birth parents. We also support orphaned children in the care of relatives whenever possible.
When I sponsor a child how is my gift used?
For children cared for by non-relative parents, sponsorship covers the child's personal expenses such as food, medicine, clothing, education, and extra-curricular activities such as music lessons, martial arts, or summer camp. Also included are the indirect expenses related to childcare (i.e. utilities for the home, small compensation for the house parents, transportation and additional household help if needed). Sponsorship is pooled to support all members of the family.
For children cared for by relatives, sponsorship assists with education costs and sometimes with living and/or emergency expenses as needed.
How much does it cost to sponsor a child?
For children living with non-relative parents, Hope's Promise assumes full financial responsibility. Child sponsorship starts at $40/month, but the full cost of raising a child in a Hope's Promise foster family averages $450/month.
For children living with relatives, full sponsorship is a lower amount.
How long will this child live with their Hope's Promise family?
Hope's Promise intends for each child to grow and flourish in his or her family, whether with non-relative or relative caregivers, until able to live independently. Children who wish to further their education may still need assistance through college.
How often can I communicate with my sponsored child?
You may email letters and photos addressed to the child's family (please include all members of the family so no child feels excluded) as often as you like to Hope's Promise, attention "Donor Relations" at [email protected]  Messages are forwarded to the in–country Hope's Promise staff for delivery to your sponsored child's caregiver, who will share with the family. Hope's Promise supervises all contact while the child is in our care for child safety and welfare purposes, as well as to honor cultural expectations.
Hope's Promise will deliver family gifts and letters written to your child's family whenever someone travels to the country. We also deliver small gift bags to each child. You will be notified before a planned trip and given the opportunity to send small items for these purposes
Can I send gifts to my sponsored child?
Periodically, we offer the opportunity for an additional amount to be included with your sponsorship or you can give in honor of a holiday or your child's birthday. These extra gifts will be sent to caregivers to spend at their discretion for all the children's gifts and family celebrations throughout the year.
Can I meet my sponsored child?
We invite sponsors to join Hope's Promise on a Connection Team trip. These short-term mission trips are planned at different times throughout the year to the countries where we support families. We coach sponsors to present themselves as "family friends" vs. financial donors.
How often will I receive updates about my sponsored child?
You will receive an update about the child and his/her family once per year. We also send country updates with ministry highlights two times per year.